EDITOR: Last summer while co-teaching a DNA course at IGHR, one of the students in the class had some questions about a mystery she was trying to solve in her own family. While discussing the brick wall, Lauren McGuire showed me a chart she had created with all the test-takers and their relationships to each other. Unlike most other methods of displaying names, relationships, and shared DNA, this chart was incredibly efficient and easy to understand. All the information was right there! It was dubbed "The McGuire Method" by the class, and it remains my favorite way to display shared cM data among a group of individuals.
For example, this method would have been perfect for displaying all the information in "A DNA Case Study: Revealing a Misattributed Parentage Event with DNA," but I wanted Lauren to announce her method first. It would be an interesting exercise to go back, now, and re-plot that graph using the McGuire Method.
A huge THANK YOU to Lauren for this blog post and for sharing her method!
The McGuire Method – Simplified Visual DNA Comparisons
(by Lauren McGuire)
A problem all genetic genealogists and amateurs alike face is how to analyze or present DNA comparisons and family relationships in the most direct and succinct manner possible. This can be quite challenging as anyone who's attempted this can attest.
My general methodology used to consist of a hand drawn family tree chart, a printed GEDmatch autosomal matrix and a lot of scribbles and notes. That works fine for straightforward charts, but as the number of testers increase, the DNA dynamics can get quite cumbersome and confusing. At one point when trying to solve the mystery of my great-grandfather's birth, I had twelve DNA testers and a whole lot of data to analyze. I reached a critical point where I had a working hypothesis and needed to enlist the help of a seasoned genetic genealogist. I also knew that my best shot to get help was to present the voluminous DNA data in the most efficient and streamlined manner possible.  In other words, my general methodology would not do. Hence, the McGuire Method came to fruition.
The McGuire Method can be summed up as one stop visual shopping where a family tree chart shows who has tested, their relationships to one another and all DNA data clearly assigned, diagrammed, and presented on one page.
At this point, I have to add that the lucky "seasoned genetic genealogist" I contacted was Blaine Bettinger. The next thing I knew, Blaine used a modified version of the chart as a teaching aid in the Tools and Techniques Genetic Genealogy class at IGHR 2016.  Fellow class member Skip Duett enthusiastically coined it, "The McGuire Method."
The McGuire Method Diagram Structure and Process:
The following diagram shows the twelve aforementioned DNA testers, with all relevant DNA and relationship data shown. When reviewing the chart, note that the four testers on the right side, Audrey, Charles, Gerald and JW, are all descendants of my elusive Great-grandfather Charles R., and are either brothers or first cousins to each other. DNA confirms all relationships perfectly. Since the purpose of my analysis is to compare their DNA data to the other eight testers who are known descendants of Concetta, I found it extraneous to include the DNA between my known four. Had I added the data, it would have cluttered the analysis. I also have left off non-essential spouses, which is a common exclusion for this type of analysis. What's important to remember is that each situation will be slightly different as there are no rules as to how you build your chart or whom you include.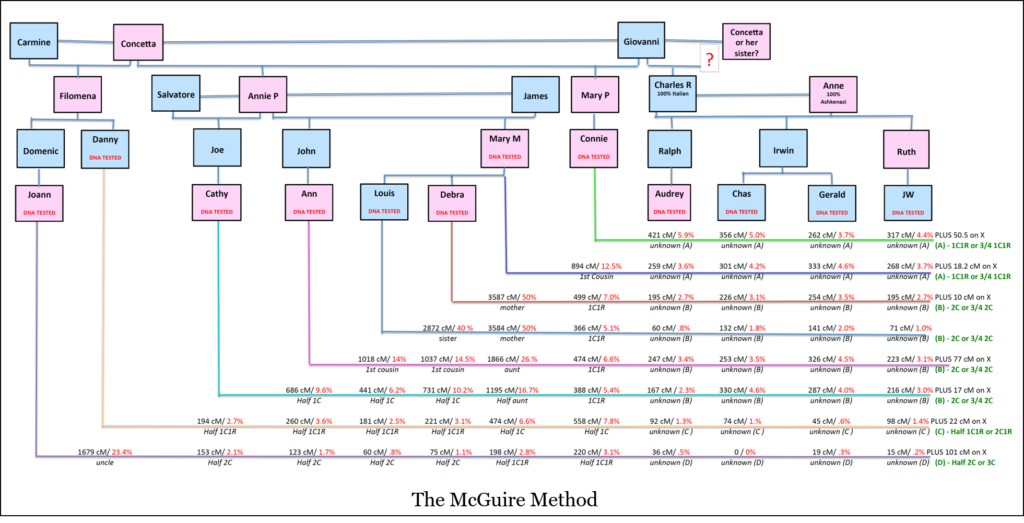 Click to Enlarge
The first step is to create a family tree chart. That's simply the normal box structures showing generations of grandparents, parents, children, siblings and cousins.  It can include second marriages and half relationships. Again, each chart is unique.  Once the family tree has been charted, DNA data and relationship descriptions are added.
Each tester (starting with the left most position on the chart) needed for the DNA comparison is assigned a color coded line drawn first vertically directly down from the center of each tester's box on the chart and then continued and extended horizontally across the page to the right.
The relationship and DNA comparisons between any two individuals is designated on the first person's (the more left-sided person is considered the 1st person) horizontal line directly below where it crosses below another tester's box at the midpoint of the second tester's vertical plane. The top of the line shows the total cM shared and/or percentage shared. Directly below the line is the relationship if known, or the speculative, if unknown.
For instance, if we want to compare Louis to Connie, we plot their shared 366 cM on top of Louis' blue line and their relationship, 1C1R, below the line.  These are written directly below Connie's box in her vertical plane.
Conclusions
The most beneficial aspect of such a strong visual summary, is that you can use your knowledge and also compare to projects such as Blaine Bettinger's Shared cM Project or refer to one of the average cM share charts on the ISOGG Wiki or DNA Detectives to determine which cM relationships do or don't fit properly. Conversely, if you have a match that you know fits somewhere, but haven't been able to place, knowing the cM match and the likely location where they belong can bring a seeker much closer to the proper spot in a family.
The McGuire Method can be used to represent any sort of relationship patterns or data one wishes to present.  My IGHR classmate, Skip Duett, created one chart to trace autosomal DNA on multiple lines and in a separate chart, to trace the Y-DNA along the male line [Editor – these charts can be found by joining the new DNA Facebook Group: Genetic Genealogy Tips & Techniques!]. For the Y-DNA, he showed markers tested along with numbers of mismatches.
With all the puzzles to be solved and dynamics to be tracked, your imagination is the only limit when using the McGuire Method in this data—rich genetic genealogy landscape.