As DNA testing for genealogy becomes increasingly popular, more individuals are using the tool to examine and confirm their family trees. However, as more people are tested and comparing DNA to their paper trail, more people are discovering that their genetic ancestry is not what they expected it to be.
The Genetic Genealogy Standards were created to help educate people about the possible outcomes and limitations of genetic genealogy testing. One of the possible outcomes is misattributed parentage, or the discovery that a supposed genealogical ancestor is not in one's genetic line. Many correctly point out that a misattributed ancestor is still be a social ancestor firmly rooted in one's social tree, although it is potentially important to know when an ancestor is not one's genetic ancestor.
Here we will look at a real-life example of how DNA testing uncovered a family secret nearly 100 years old.
The Clancy Study
The Clancys are a family of interest for me, and I wanted to test several descendants of the immigrant family using autosomal DNA. This would confirm the family tree, find other people related through this family, and potentially give me leads back in the originating country.
Since I am not a descendant through an unbroken male line, I also wanted to find a Clancy male who would be willing to take a Y-DNA test. I could learn more about the ancient origins of the Y-DNA line, and potentially find matches that I could work together with to extend the family tree.
I had already tested two great-grandchildren of the immigrant couple – Melissa Smith and Robert Smith in FIG. 1 – and these would be a great starting point for the Clancy Study. Now I just needed to find other willing descendants of Daley and Mary (Shane) Clancy.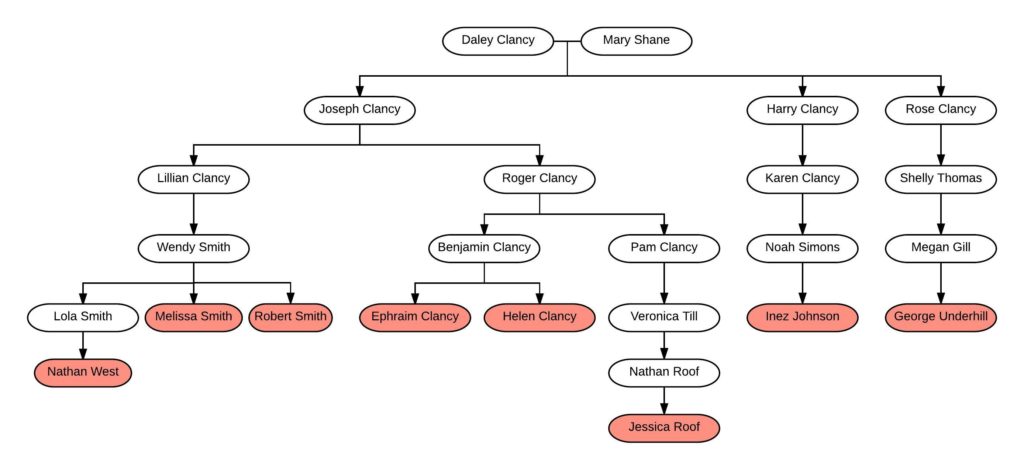 We will reference this chart often. You can click on it to enlarge it, and you might want to print it out or open it in a new tab to have it handy.
Finding a Test Subject
Before DNA hit the scene, I'd spent a great deal of time researching the Clancy family and documenting the descendants. In the late 1990's and early 2000's I wrote to many descendants and received magnificent letters back describing what they knew about the family, each containing a tidbit of lore or history about the Clancys. Many of that older generation are now gone, and these letters are invaluable treasures.
Because I'd researched the family, it was an easy matter to identify a living male Clancy descendant – Ephraim Clancy. Once I contacted him, he was happy to take a Y-DNA and atDNA test. His sister – Helen Clancy – was also happy to take an atDNA test.
Referring to FIG. 1 again, you can see that Melissa Smith and Robert Smith are second cousins to Ephraim Clancy and Helen Clancy. This was perfect, as there was a guarantee that these second cousins would share DNA (to date, no one has ever proven a second cousin or closer relationship that does NOT share a detectable amount of DNA).
Other Clancy Descendants Already in the Database
Additionally, testing Melissa and Robert Smith had revealed other descendants of Daley and Mary (Shane) Clancy already in the testing company database. For example, Inez Johnson and George Underhill are descendants through two other children of Daley and Mary as shown in FIG. 1.
The family tree shows that Melissa Smith and Robert Smith are third cousins to Inez Johnson and George Underhill. Both Melissa and Robert share DNA with Inez and George at an expected level. According to the 2016 data from the Shared cM Project, 3C has an average of 79 cM shared with a range from 0 to 200 cM or so. All the 3C relationships fall nicely into that range: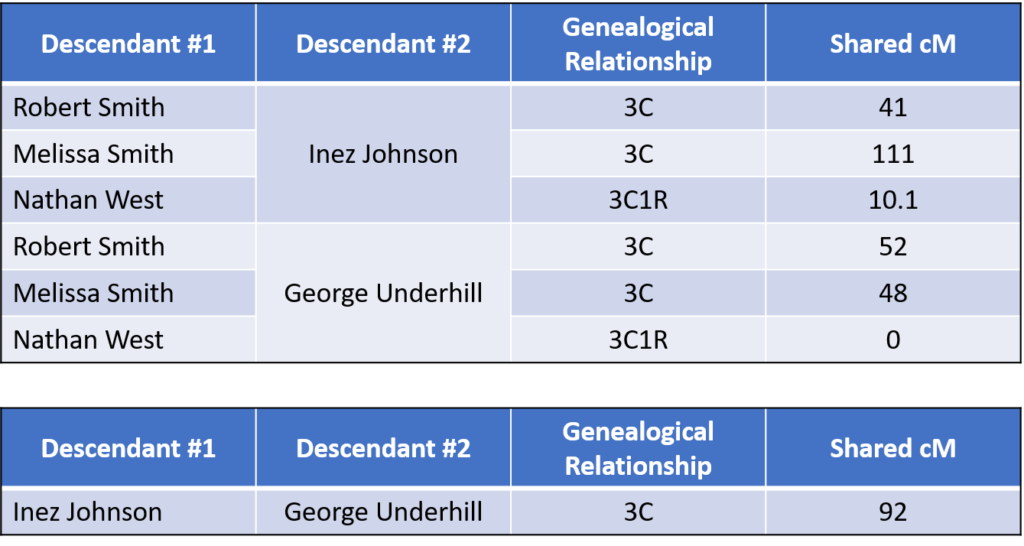 With these results, I have DNA evidence that potentially supports documentation that Joseph, Harry, and Rose Clancy are siblings and children of Daley and Mary (Shane) Clancy.
Now let's bring in the DNA test results from Ephraim and Helen.
The Results
Siblings Ephraim and Helen share about 2,700 cM with plenty of fully identical regions, making them full siblings as expected.
However, when comparing their shared DNA to their extended relatives, we discovered the following: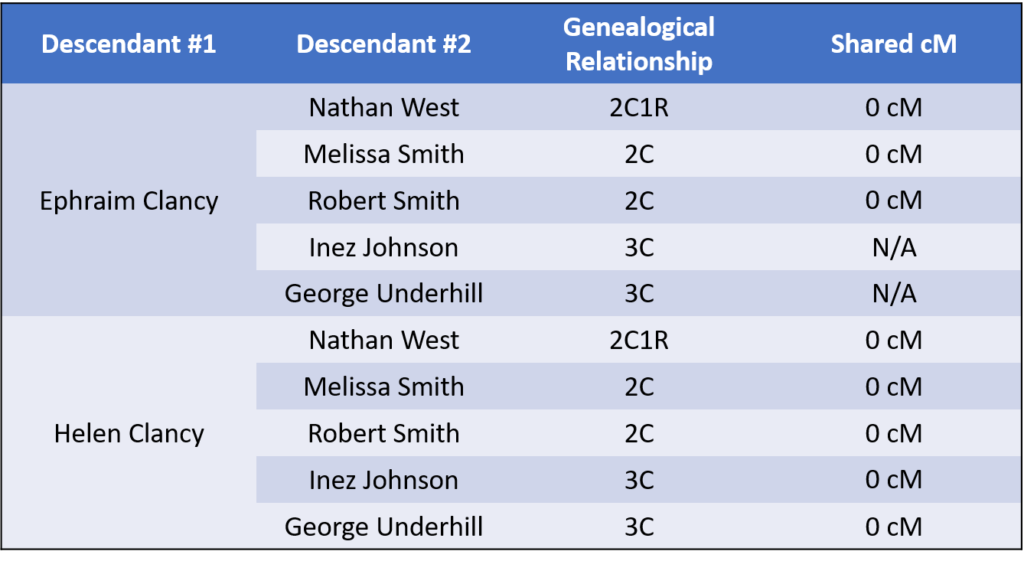 This should raise many red flags, considering that there are a total of four different 2C relationships here that do not share DNA. As of today (March 13, 2017), no second cousin relationship (or closer) has ever been proven to share no DNA. Accordingly, there appears to be a misattributed parentage event in this tree somewhere.
Narrowing in on the Misattributed Parentage Event
A final piece of information helped pinpoint which generation the MPE likely occurred. While Ephraim and Helen were testing, I discovered that their close relative, Jessica Roof, had recently tested.
As expected, Jessica is closely related to Nathan, Melissa, and Robert. For example, the 2C2R relationships are almost exactly the same as the average (81 cM), and the 3C1R relationship is within the normal range (0-156 cM, average 56 cM):

As shown in FIG. 1,Jessica is a 1C2R (first cousin twice removed) to Ephraim and Helen, a very close relationship. The results of the DNA testing shows that Jessica shares the following amounts of DNA with her cousins Ephraim and Helen:

This was somewhat surprising. According to the 2016 data from the Shared cM Project, the average for 1C2R is 235 cM with a range of 27 to 413 cM. Although both numbers were well within the range, they were both almost half of the average amount.
OK. Now, with this information and before you peek down below, can you come up with a scenario that explains the DNA results we've seen? Can you determine where the misattributed parentage event likely occurred? Scroll down when you are ready for my hypothesis, and see whether you agree.
Identifying a Misattributed Parentage Event
If we hypothesize that Benjamin and Pam were maternal half-siblings (with Pam being the daughter of Roger Clancy and his wife but Benjamin being a child of the wife and another man) then ALL the results could fit within that model. If Benjamin and Pam are maternal half-siblings, for example, that would mean that Ephraim and Helen are not biologically Clancys. Instead of grandfather Roger Clancy, another name should be there in the genetic family tree for them. Pam, however, is likely the child of Roger Clancy as described below.
The maternal half-sibling theory resolves several other concerns:
For example, this theory would explain why Ephraim and Helen don't share DNA with any of their 2Cs or 3Cs (i.e., Melissa, Robert, Inez, and George). Ephraim and Helen are related to all of those individuals only through Roger Clancy, according to the tree. Because Jessica Roof is also related to all of those individuals only through Roger Clancy, her line appears to be correct (because she DOES share DNA with Melissa, Robert, and Nathan, for example).
The theory also explains why Jessica Roof shares DNA with Ephraim and Helen, potentially at 50% of the average. If Benjamin and Pam were maternal half siblings, then Ephraim and Helen would be half 1C2R to Jessica. This is not as clear because the shared amount fits within the broad range for 1C2R, but it fits perfectly into the model.
Thus, according to this theory, Roger Clancy had just one child – Pam Clancy – with his wife. Some years later, there was then a second child – Benjamin Clancy – born to the wife and someone else.  Of course I don't know the circumstances of this misattributed parentage event, and that is always an incredibly important consideration.
This is, of course, just the beginning of the research. I can look for additional evidence that would support my theory, both DNA evidence and documentary evidence. Additionally, I can look for the father of Benjamin Clancy using existing matches in the testing database.
(Of course, all names herein have been changed, as have a few other facts to avoid identification).