What is BigY?
BigY is a Y-DNA test offered by Family Tree DNA. For a limited time only (August 2017), Family Tree DNA is offering BigY to existing customers for $395 (down from $575).

Typically, most Y-DNA tests taken by genetic genealogists are either STR or SNP tests. In contrast, BigY is a Y-DNA sequencing test available to male test-takers. The test sequences approximately 12 million base pairs of the Y chromosome, and identifies SNP results within those 12 million base pairs.
From the BigY FAQ (also see the 2014 BigY White Paper):
The Big Y product uses next-generation sequencing to reveal genetic variations across the Y chromosome:
Targeted Non-recombining Y-DNA sequencing.
Illumina HiSeq 200.
55X to 80X average coverage.
Around 11.5 to 12.5 million base-pairs of reliably mapped positions of non-recombining Y chromosome.
Analyzed using Arpeggi genome analysis technology for improved variant calls.
All samples are processed in-house using our custom laboratory methods and informatics. Your sample never leaves our company and is never shared with outside vendors..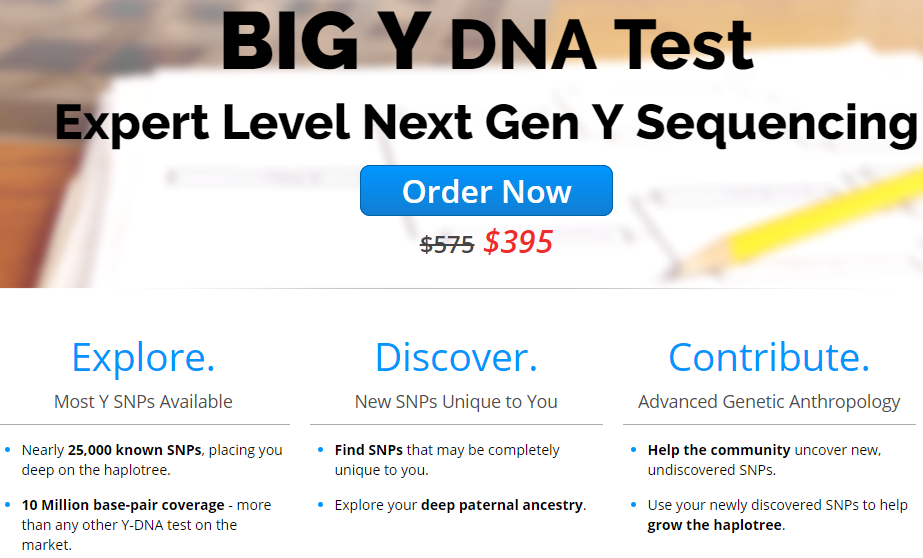 The raw data from the test, VCF and BED files, are available for download on the results page.
What do the BigY Results Look Like?
As with all other tests you take at Family Tree DNA, your BigY results will appear in your results dashboard:
Clicking on the BigY Results tab shows you the list of SNPs from the test based on one or more filters. For example, as shown in the figure below, you can filter based on whether you are ancestral (-) or derived (+) for a SNP, whether it is on the Y-Tree, and other filters.
For example, if I filter by derived, I have a total of 645 results. This means that I am positive for these SNPs, that I have a mutation at these SNPs and no longer have the ancestral value. Notably, these 645 SNPs are out of a total of 36,372 SNPs.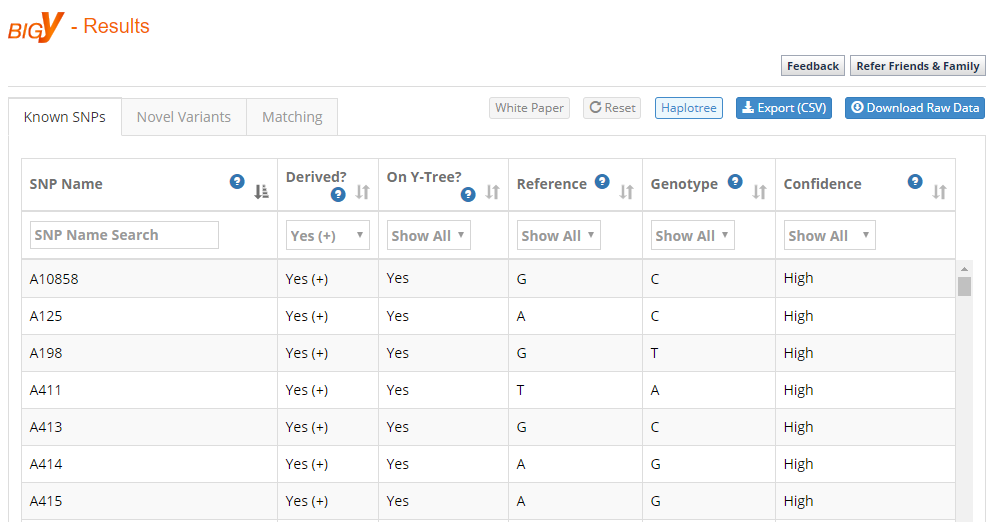 I can also see my "Novel Variants," as shown in the figure below. Now, this does NOT mean that I am the only person that has this result at this SNP location. There could be thousands of people that have these results, or there could be just me. It simply means that it has not yet been placed on the Y-Tree. Figuring out who has these SNPs, and how they fit onto the Y-Tree, is one of the goals of BigY sequencing. Indeed, we have learned an incredible amount about the human Y-DNA tree as a result of BigY testing.
Eventually, all of these "Novel Variants" will hopefully be mapped to the Y-Tree and I'll perhaps only have a couple of results that are truly novel to me or a small group of people (presumably closely-related individuals).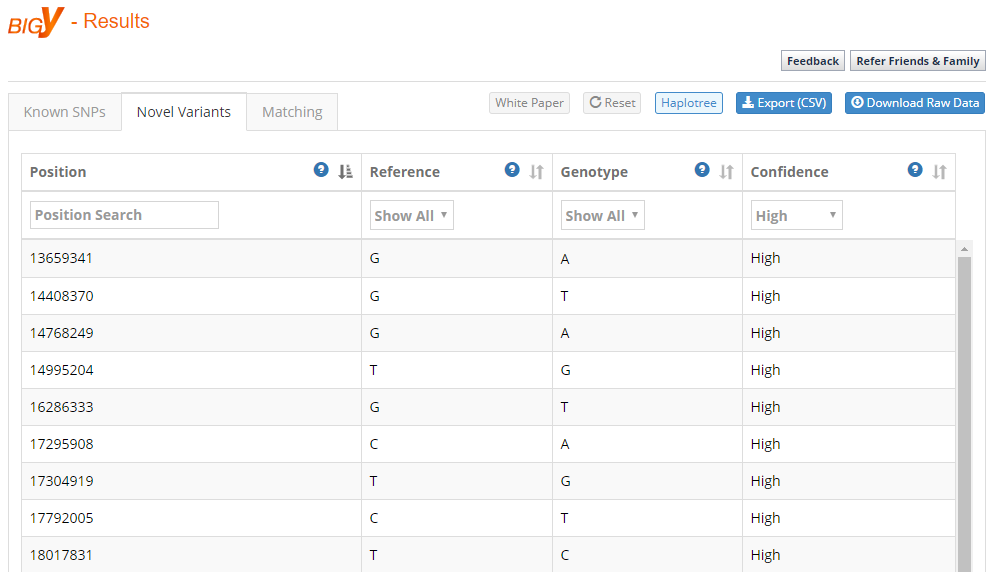 I can also click on "Haplotree" to get a quick drop-down of my spot on the human Y-DNA tree. As you can see, my terminal SNP is R-A415. Before BigY, my terminal SNP (based on previous SNP testing) was R-L1. So you can see that BigY helped push me further out on the Y-DNA tree (in fact, BigY helped create these additional twigs of the tree underneath L1):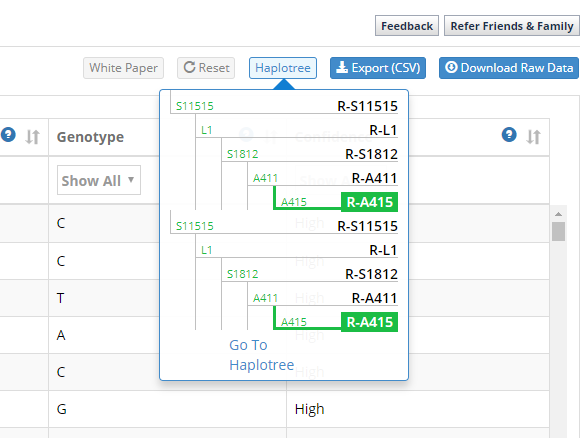 Clicking on "Go to Haplotree" expands the tree and shows a little more data: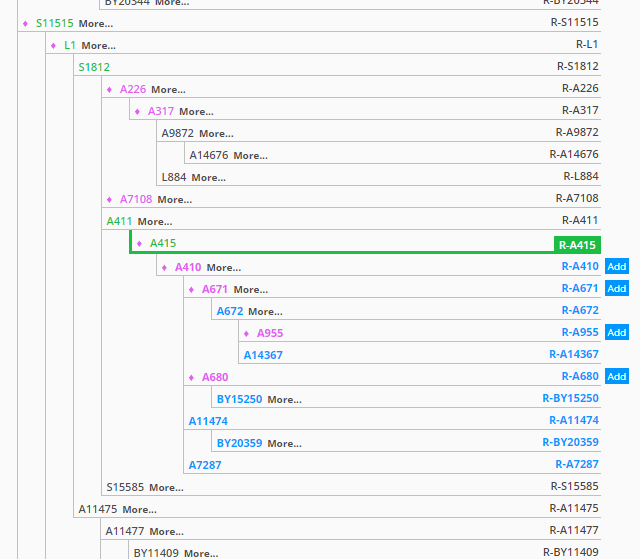 Shortly after the BigY results were first available, Family Tree DNA added a matching option to the tool. This compares your results only to other BigY test-takers, and matches appear to be ranked based on: (1) the number of Shared Novel Variants; and (2) the number of total Matching SNPs.
You can see in my match list (this only shows a few of the total 211 matches) that I have a couple of matches with no known SNP difference, who share 8 Novel Variants with me (and almost 30,000 SNPs matching).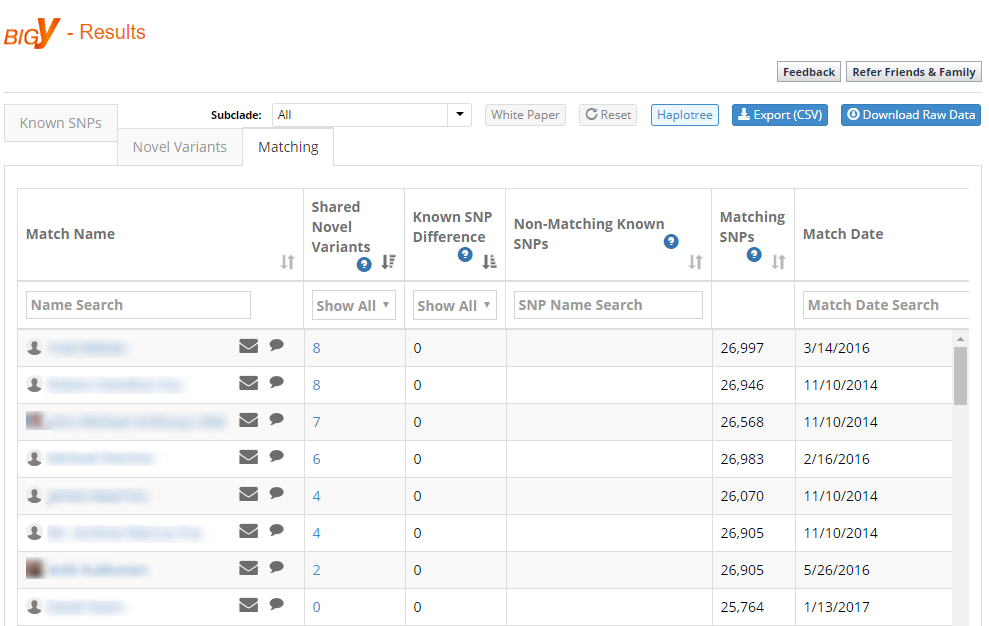 However, finding random matches can be very misleading. For example, the third match down with whom I share 7 novel SNPs has tested his STRs out to Y-111. When I compare his Y-111 results to my Y-111 results, I discover a Genetic Distance of 24 (and a GD=10 at 67 markers). Thus, he is not a close paternal relative, at least not on a timescale where we'll find any records. But we are almost certainly related within the past 1,500 years or so, and together with other similar matches we will likely learn a great deal more about our particular branch of the Y-DNA tree.
(Discovering this took a convoluted path, but I'll share it in case you find it useful. First, I found him as a GD=0 perfect match at 12 markers where he listed his terminal SNP and his most distant ancestor. Second, I went to his surname project and found his Kit number. Third, I went to Semargl.me, a Y-DNA database and searched using my Kit number (or my Ysearch number) and found him listed there at a Genetic Distance of 24).
Why Would I Take a BigY Test?
Family Tree DNA's infographic about the BigY test, located above, provides some good reasons why someone would take a BigY test. It will potentially help contribute to our understanding of the human Y-DNA tree.
Additionally, there is incredible promise for members of family groups trying to tease apart relationships within the past 500, for example. These family groups are combining Y-STRs and Y-SNPs and BigY results to make some really interesting discoveries. But they are working with BigY results in a careful, planned manner.
If you are just starting out with Y-DNA and are on the fence about BigY, I would caution you to wait. This is a powerful tool for advanced users, but I don't recommend that you purchase the test unless you have a more specific reason to do so. Instead, go out and test the autosomal DNA of 4 relatives!
What Else Can I do with My BigY Test?
The Family Tree DNA interpretation of your BigY results is not necessarily the end of the analysis! Once you have access to your BigY raw data, you can purchase an analysis of that raw data at YFull for $49 (see more about YFull on the ISOGG Wiki here).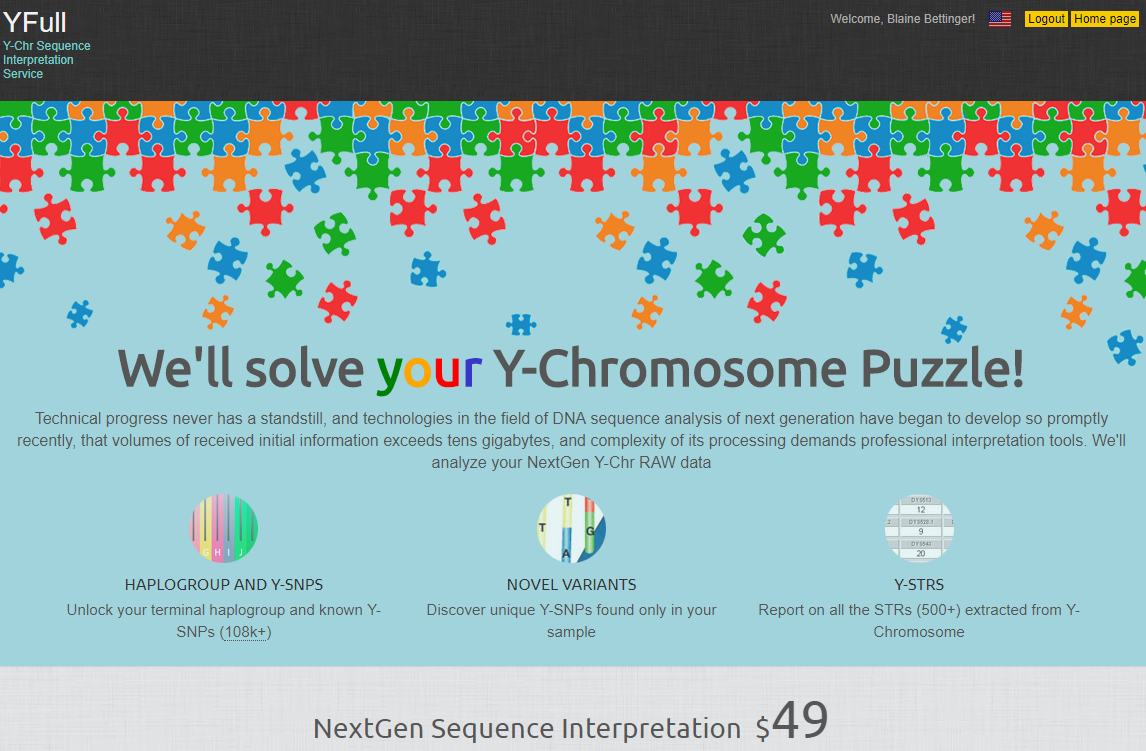 Among other analyses, YFull provides:
Statistics about my raw data (see the screenshot below);
Terminal SNP and location on the human Y-DNA tree (updated regularly);
A list of Y-SNP genetic matches estimated to share a MRCA within the past 2,500 years;
A list of novel SNPs found only in the test-taker;
Results for 500+ Y-STRs (see the screenshot below); and
A list of Y-STR matches (my closest is a GD=49 at 388 markers, and he has the same terminal SNP designation as I do).
My haplogroup and terminal SNPs:


My statistics: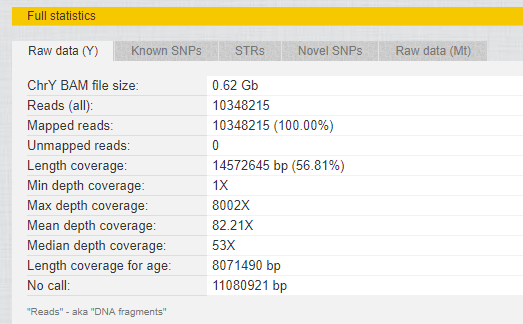 Some of my STR results: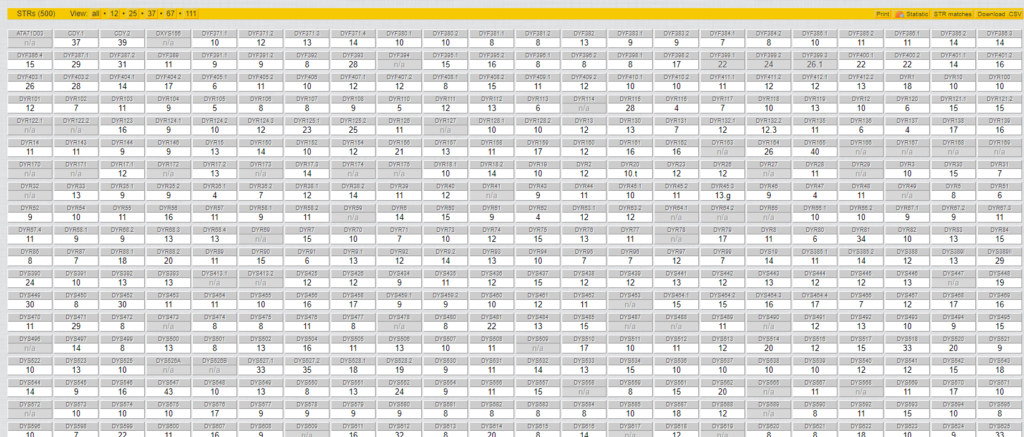 My SNP matches:

Some of my STR matches:

So what say you? Are you considering a BigY test? What do you hope to accomplish with your test?