In this blog post we will briefly review an extreme Grandparent/Grandchild relationship, where a grandchild appears to share just 9% of her DNA with a paternal grandmother rather than the expected 25%. All information is anonymized.
I'm a little afraid to post this article about an extreme outlier scenario. There is a danger that it could support misinterpretation rather than foster critical thinking. If you have a possible outlier scenario, be sure to try to disprove that it is an outlier situation, rather than simply proceeding as if is an outlier. Avoid confirmation bias!
This is the third post on my blog specifically examining outliers in confirmed relationships:
Is it an Outlier? The Extreme Danger of Confirmation Bias
This was discussed in a previous article about outliers, but it bears repeating.
The danger here, and what I find most people do, is to assume that an unexpected result is actually an OUTLIER. However, it is only an outlier if the two people have the expected genealogical relationship. If those two people have another relationship (in the place or or in addition to the expected relationship), then they are NOT an outlier, they are another relationship. It is VITAL that people determine which scenario it is; are they an outlier or another relationship? 
When there is a possible outlier situation, I invoke "The Outlier Protocol." Specifically, I have to try to determine whether the unexpected shared cM amount is due to the expected relationship actually being an outlier or whether the two people have another relationship. While the goal of the Outlier Protocol is the same for every analysis, the specifics of the analysis will depend upon the relationship involved, among many other factors.
Ignoring The Outlier Protocol and proceeding as if it is simply an outlier scenario is confirmation bias. When a shared cM amount is very low or very high, a red flag is raised and we must do our best to resolve that red flag using a combination of documentary research and additional DNA testing. Anything else is confirmation bias.
The Scenario
I learned about a situation where a mother (Michelle) reported that her daughter (Shelly) shared much less DNA with her paternal grandmother (Victoria) than expected, and far more DNA with her paternal grandfather (Charles) than expected. Here's the relevant family structure: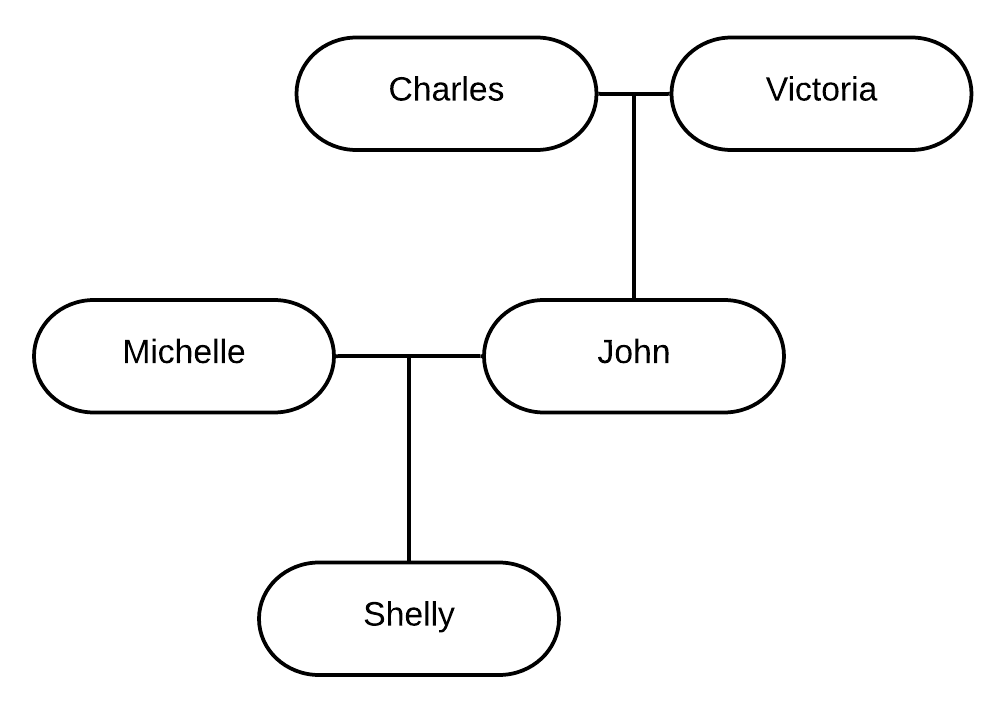 Everyone shown above has tested their DNA and transferred their results to GEDmatch Genesis.
What Amount of Shared cM Do We Expect?
We get 50% of our DNA from each parent (the actual amount will vary a bit because of company algorithms, the size of the X chromosome versus the Y chromosome, etc, but it is one copy of each chromosome for 50%). Beyond parent/child, however, relationships vary. For example, at the grandparent level, we know several things:
You inherit 100% of your DNA from your 4 grandparents;
You inherit exactly 50% of your DNA from the combination of your two paternal grandparents;
You inherit exactly 50% of your DNA from the combination of your two maternal grandparents; and
The amount you receive grandparent in a pair of grandparents will vary within that 50%.
This post is about the variation within the 50% provided a set of grandparents.
I have one example in my own family where a grandchild shares 31.7% with his maternal grandmother and 18.3% with his maternal grandfather. Collectively that is 50%, the same 50% that the grandson's mother passed down to him.
So, on average we get 25% from each grandparent, although there can be considerable variation.
What Amount of Shared cM Do We Actually See?
Before we jump into how much Shelly shares with each of her paternal grandparents, here are some important facts for the analysis:
Michelle shares NO DNA with John, Charles, or Victoria.
Shelly shares 3547 cM with her mother Michelle and 3561 with her father John
Johns shares 3570 cM with his mother Victoria and 3570 cM with his father Charles
Shelly shares a TOTAL of 3550 cM with her paternal grandparents Charles and Victoria
Charles and Victoria share NO DNA.
In other words, nothing about the family relationships are unusual. There's no unknown or unexpected relationships.
However, Shelly shares the following amounts with her paternal grandparents:
657.7 cM (9%) with her paternal grandmother
2940.9 cM (41%) with her paternal grandfather
The percentages were calculated by GEDmatch Genesis.
Shelly shares DNA with her paternal grandmother on 13 of her 23 chromosomes (many of which are only small segments on the tips of the chromosomes), and shares DNA with her paternal grandfather on all 23 chromosomes (most of which are large segments or entire chromosomes).
Both of these values are very far outside the range of the Shared cM Project.

I initially told Michelle, with whom I corresponded, that this was "essentially impossible" and that there must be some other explanation. Not only is it unlikely to occur, it is unlikely to actually be detected. Given the size of the human population and the size of the databases, there are actually very few grandparent/grandchild relationships tested.
Visualizing John's Recombination (or lack thereof!)
Now, we know this is all John's fault, right? John recombined the chromosomes that Charles and Victoria gave him, before he passed them down to Shelly. Based solely on the numbers, it appears that he didn't do much recombination at all. And thanks to GEDmatch, we can visualize that lack of recombination. The pattern of matching shown by visualizing the recombination also helps confirm that Charles and Victoria are, in fact, the mating pair that produced John.
How do we visualize recombination? We simply compare Shelly to one or both of her grandparents using a chromosome browser!
Here's a One-to-One comparison at Genesis of Shelly and her paternal grandfather Charles: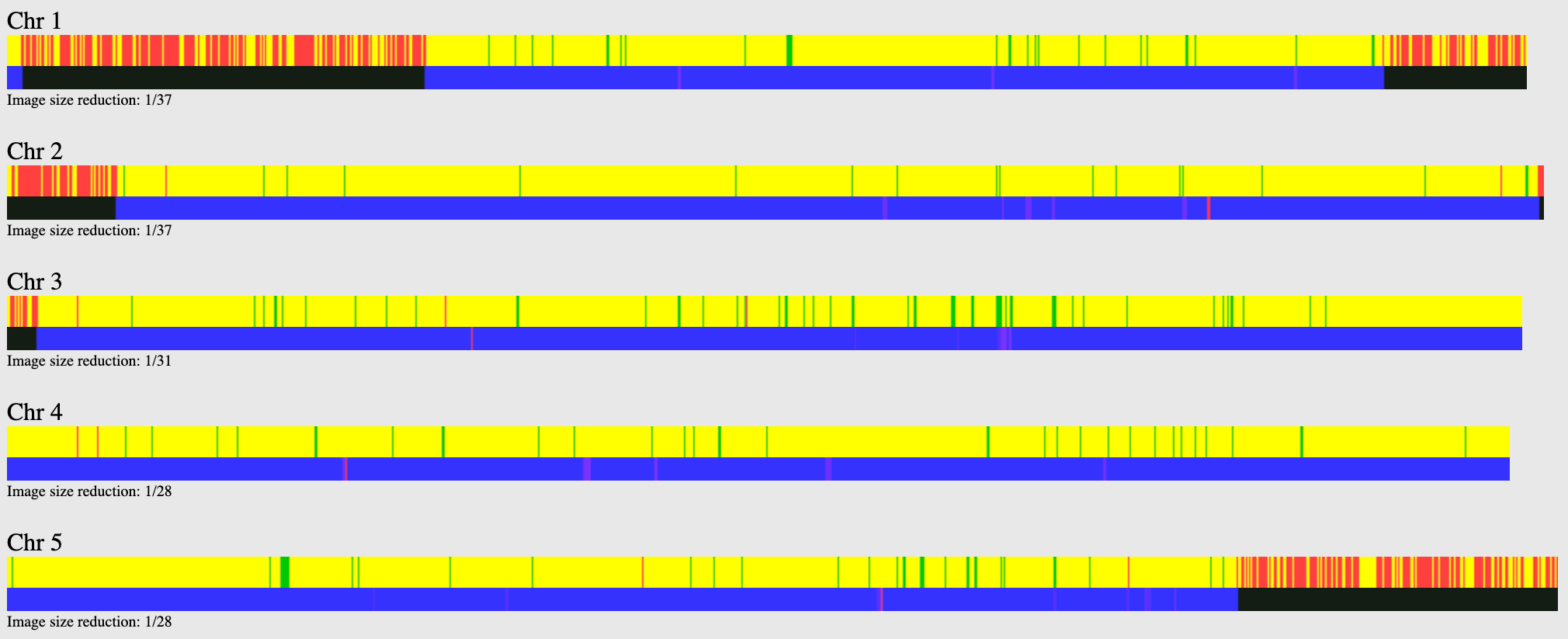 And here is a One-to-One comparison at Genesis of Shelly and her paternal grandmother Victoria: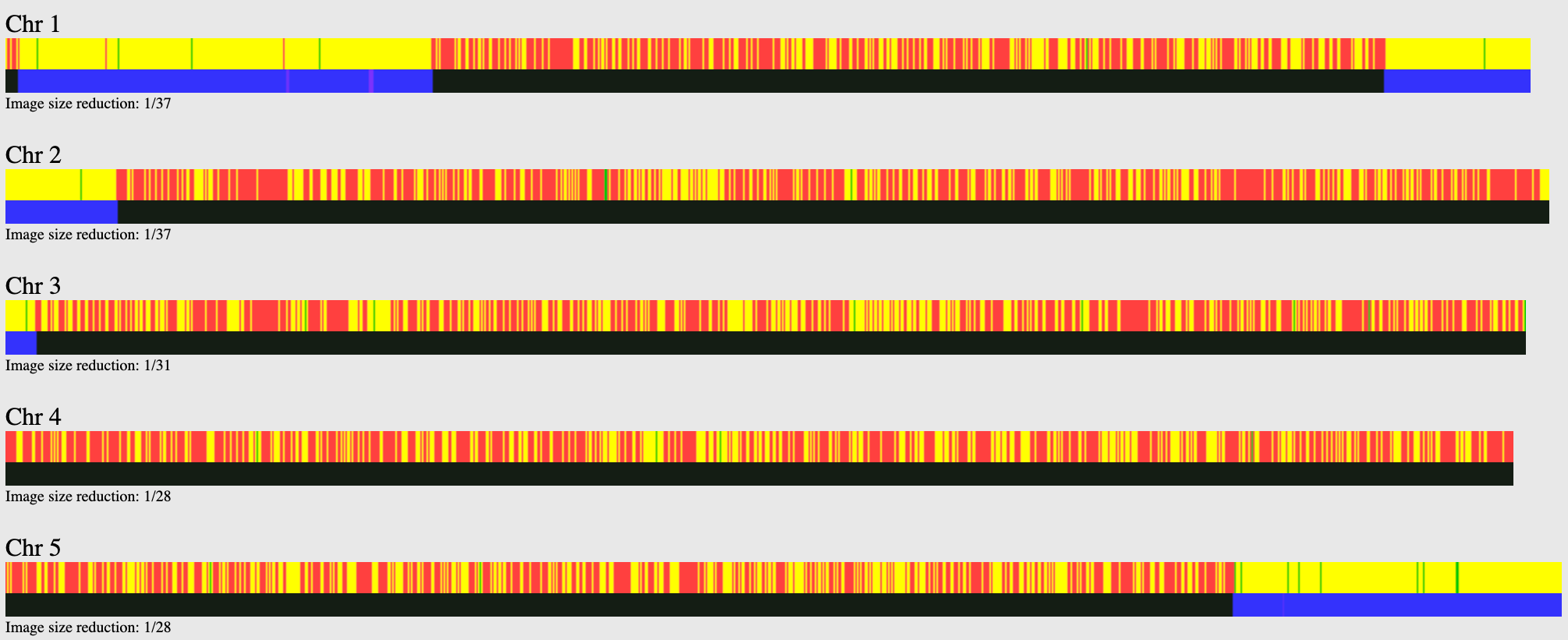 Do you see the pattern? If the grandfather shares DNA at a spot, the grandmother does not, and vice versa. Everywhere there is a switch from one grandparent to the other, this represents a single recombination point created by John.
Interestingly, there are a total of 22 recombination events created by John, which isn't far off the average number found in research studies of 26-27 recombination events (see one of my favorite articles of all time: https://journals.plos.org/plosgenetics/article?id=10.1371/journal.pgen.1000648). What happened, however, is that 13 of the 22 recombination events were near the end of the chromosome, resulting in little effect.
Conclusions
This DOES appear to be an extreme outlier situation rather than another explanation such as a different relationship. However, this would have been an extremely difficult case to examine without having all the family members tested, and without having a chromosome browser to review the recombination pattern.
But note that this post is NOT support for outliers. Rather, it is meant to emphasize that when you find a possible outlier, you must utilize "The Outlier Protocol" to determine whether it is an actual outlier or whether there is another explanation. Remember, the goal is to disprove a hypothesis, not to only gather evidence that supports the hypothesis. Anything else is confirmation bias!