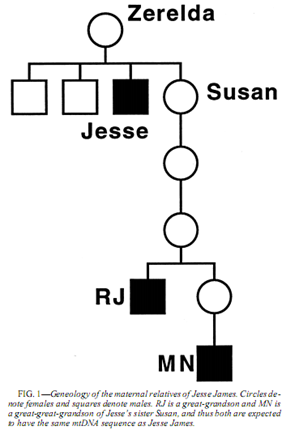 Jesse Woodson James, born September 5, 1847 and died April 3, 1882, was an infamous American outlaw. Despite strong evidence that James was killed on April 3, 1882, some theorized that his death was staged and that he in fact survived to father additional children.
In 1995, researchers set out to use relatively new DNA analysis to examine the rumors surrounding James' death. They exhumed the body believed to be that of James from the Mt. Olivet Cemetery in Kearney, Nebraska. Although the remains were poorly preserved, the scientists were able to obtain DNA from two of four teeth. They also had DNA from two hairs that were recovered in 1978 from James' original burial site on the James farm.
The mtDNA HVR1 sequence from the teeth and hairs were identical and belonged to Haplogroup T2, with 5 mutations relative to the CRS (16126C, 16274A, 16294T, 16296T, and 16304C). ... Click to read more!