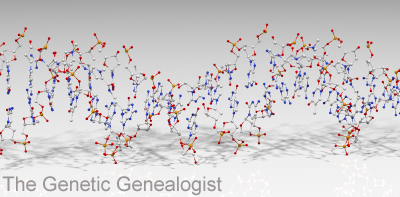 I was being completely serious yesterday. I can barely keep up with all the genetic genealogy in the news, so here's yet another round-up of the all the latest:
Sorenson Genomics is everywhere in the news. For example, a recent article in the Daily Herald discusses Scott Woodward's love of genetics. Woodward is the Director and Chief Scientific Officer of the Sorenson Molecular Genealogy Foundation. Megan Smolenyak wrote about this article at Megan's Roots World. Sorenson also announced that it will merge the Identigene and GeneTree DNA testing units (HT: Genome Technology Online).
Jasia at Creative Gene discusses some of the financial costs associated with genetic genealogy. It appears that this will be a series of posts, and I'm very interested to see how the costs compare to traditional genealogical research. Note that Creative Gene is a member of The Genealogists, a Feedburner Network of some of today's best genealogical blogs. ... Click to read more!