Today (23 May 2018), the Board for Certification of Genealogists announced a 60-day public comment period for a set of proposed DNA standards: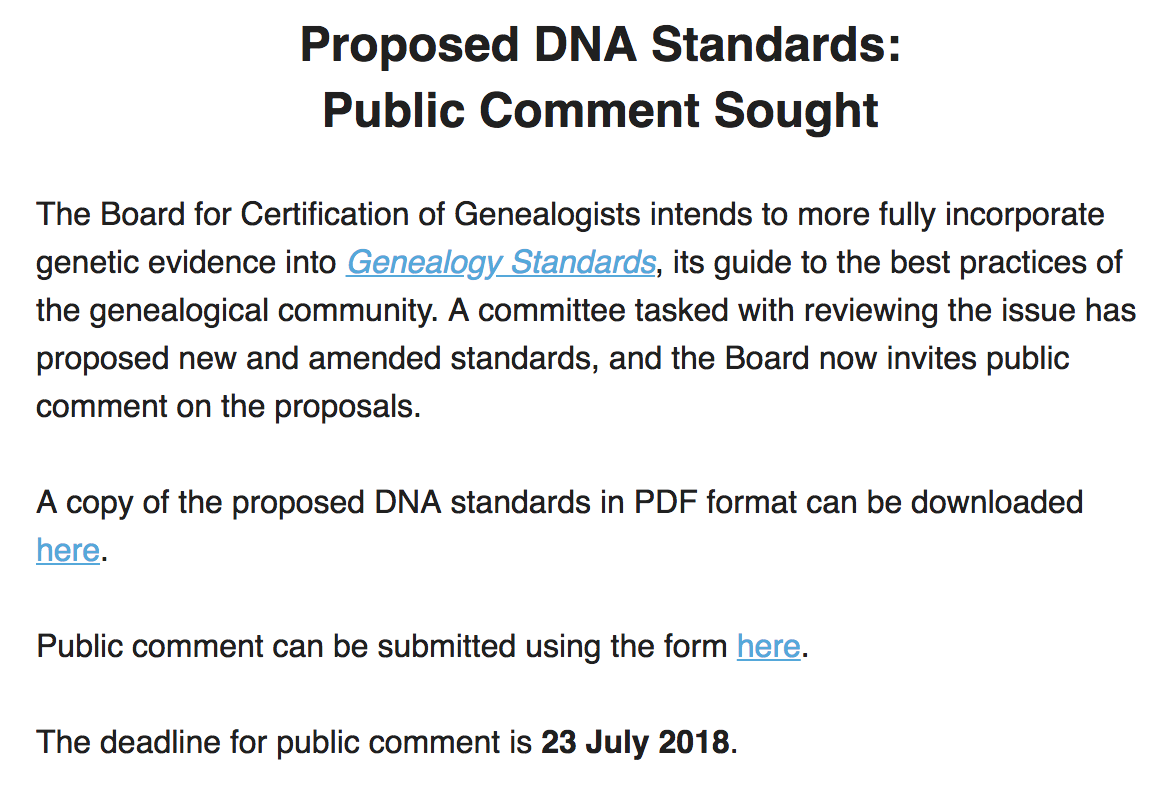 The link for the Genealogy Standards is here: https://www.amazon.com/Genealogy-Fiftieth-Anniversary-Certification-Genealogists/dp/1630260185.
The PDF of the proposed standards is here: https://bcgcertification.org/DNA/Proposed_Standards.pdf.
The link for the survey is here: https://goo.gl/forms/57ahXLqkAYOBWDop2.
Via a Facebook post, BCG announced the following:
The Trustees of the Board for Certification of Genealogists (BCG) met in Grand Rapids, Michigan on 2 May 2018. The trustees…debated a proposal to update genealogy standards to incorporate standards related to genetic genealogy. As a result of this discussion BCG intends to move forward with the integration of genetic genealogy into Genealogy Standards. The board directed that the committee's proposal be published for public comment. The proposed standards can be viewed at https://bcgcertification.org/DNA/Proposed_Standards.pdf. The public comment period ends on 23 July 2018. Fill out the survey at this link (https://goo.gl/forms/57ahXLqkAYOBWDop2) by 23 July 2018. Due to the expected volume of comments, we will not be able to acknowledge or respond to individual comments.
Thus, you have until 23 July 2018 to provide comments to the proposed DNA standards.
Why the Board for Certification of Genealogists? Why Proposed DNA Standards? 
Genealogy has come a very long way in the past 100 years, from a hobby focused on nobility and filled with fake family trees to a respected academic pursuit with standards and several professional journals. The BCG, the Genealogical Proof Standard, and the Genealogy Standards are important aspect of that progression. All three have provided important guidance for genealogists which has vastly improved the quality of genealogical research withinthe entire community. Although I think it was a grave mistake to lock the Standards into a book rather than freely promulgate them, it is still an essential resource for every genealogist looking to improve the quality of their research. Importantly, the Standards are available to anyone (for less than USD $10) rather than being only available to BCG members.
In January 2015, an ad hoc committee of genealogists released the Genetic Genealogy Standards, a set of guidelines for genealogists incorporating DNA evidence into their research and conclusions (see "Announcing the Genetic Genealogy Standards"). These standards, which also went through a public comment period, have been widely adopted and utilized. However, the Genetic Genealogy Standards were largely ethical standards and did not go far enough in guiding genealogists with the hands-on application of DNA evidence to genealogical research.
In contrast, the proposed BCG DNA standards focus on the application of DNA evidence to genealogical research, including essential considerations for planning, applying, and reviewing DNA evidence. I am a proponent of the creation of DNA standards (see the Full Disclosure below). Although I do not believe in the dangerous DNA exceptionalism theory (the theory that DNA evidence is inherently different than other types of DNA evidence), I believe that the proposed DNA standards provide guidelines for a type of evidence that many people are either not using or need guidance to use it properly. It is my sincere belief that 25 or 50 years from now we won't need specific DNA standards just as we don't need specific census standards today. However, given that DNA evidence is so widely misunderstood (or not understood at all), this is a key moment to offer guidance. And BCG is an entity that can provide this guidance via DNA standards.
Additionally, I believe that it is possible to write DNA standards that will not need to be changed as DNA testing and DNA methodologies change. Just as we don't need to change the speed limit as car engines become more fuel-efficient, well-written DNA standards that are crafted with longevity in mind can withstand the test of time as new testing and applications are discovered. I hope that it will be MANY decades before DNA evidence testing and methodologies are no longer changing, so we shouldn't wait for a future date for DNA standards.
What do YOU think?
Well, you've read what I think (well, a little of it, anyway!) Here's your chance to let BCG know what you think! This is YOUR opportunity to have your voice heard! Are the standards needed? Are they good standards? Do they need to be changed? Are only some of the standards needed? Are other standards missing? This is your chance, so seize the opportunity!
For Additional Reading
A few bloggers have already written about the proposed standards:
FULL DISCLOSURE: I am a member of the BCG Genetic Genealogy Committee that created the proposed DNA standards being discussed and that will analyze the comments and modify the standards as may be required or needed.
.