DNA Central (www.DNA-Central.com), your one-stop resource for DNA education, has just gone live! See below for your special discount membership offer, a thanks for being a The Genetic Genealogist subscriber!
What is DNA Central?
There is an enormous need for DNA education. Millions of people are testing their DNA every year, but there are so few educational resources for those test takers. Receiving your results from the test company is just the first step in the process. How do you understand those test results? What do you do with them?
DNA Central is my effort to provide that DNA education in multiple formats. The membership-only website will provide resources for people at all levels trying to understand their results and stay on top of the most recent developments in DNA. These resources include:
DNA Central Courses (including an extensive "I've Tested, Now What?" series)
Monthly webinars
A twice-monthly DNA Newsletter with the latest in DNA
Short how-to videos (coming soon!)
Resources for Educators (including PPT/PDF/PNG downloads for use at meetings and conferences)
Forums
Let's take a look at the DNA Central offerings!
The DNA Central Dashboard
From the DNA Central dashboard, you can access all of your educational resources: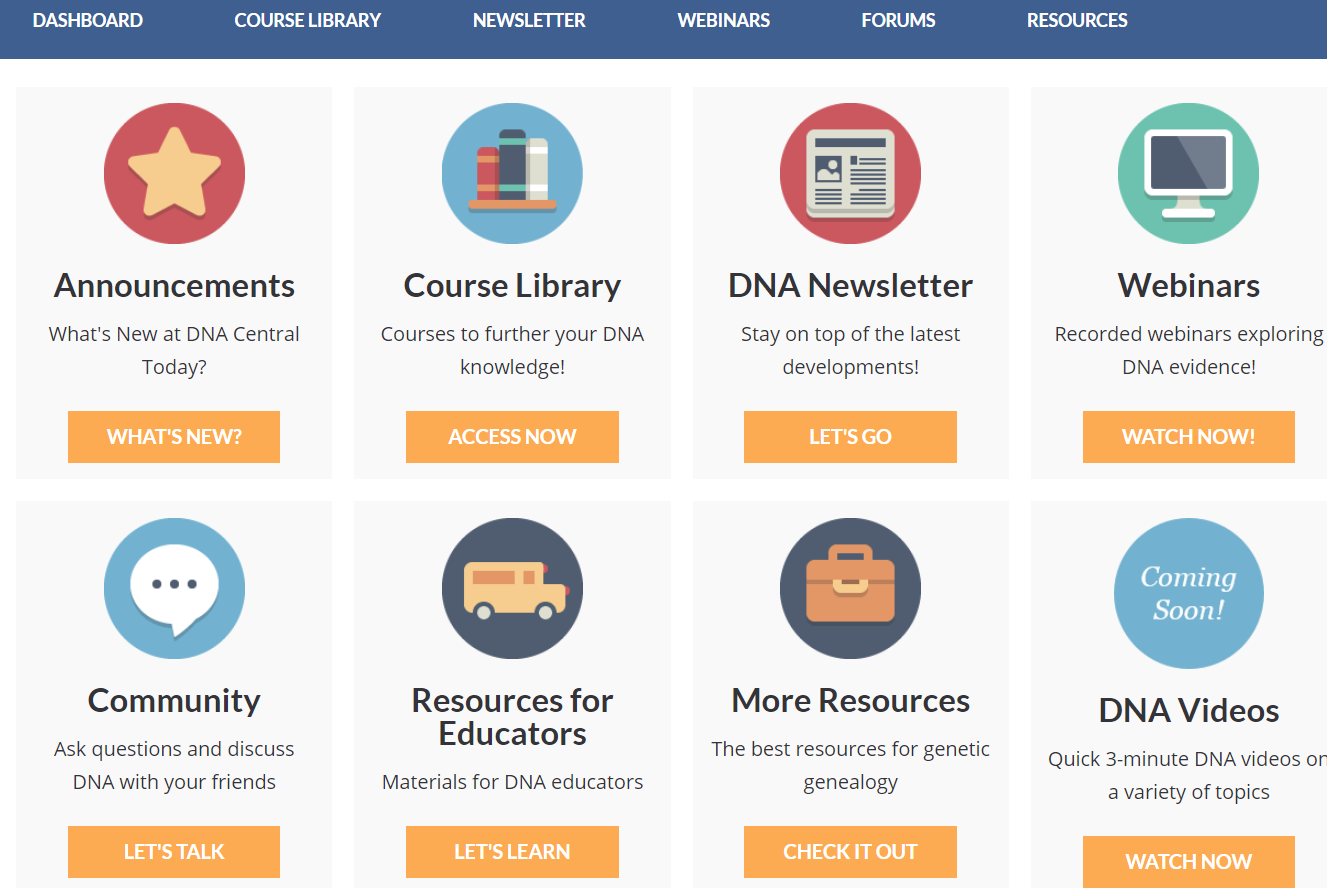 Clicking on any yellow box takes you directly to that resource. Let's click on "Access Now" to check out the DNA Central course library!
The DNA Central Course Library
The DNA Central course library offers a variety of different courses. Although currently aimed at beginner/intermediate, future courses will also include intermediate/advanced content. This is a screenshot of just a few of the courses: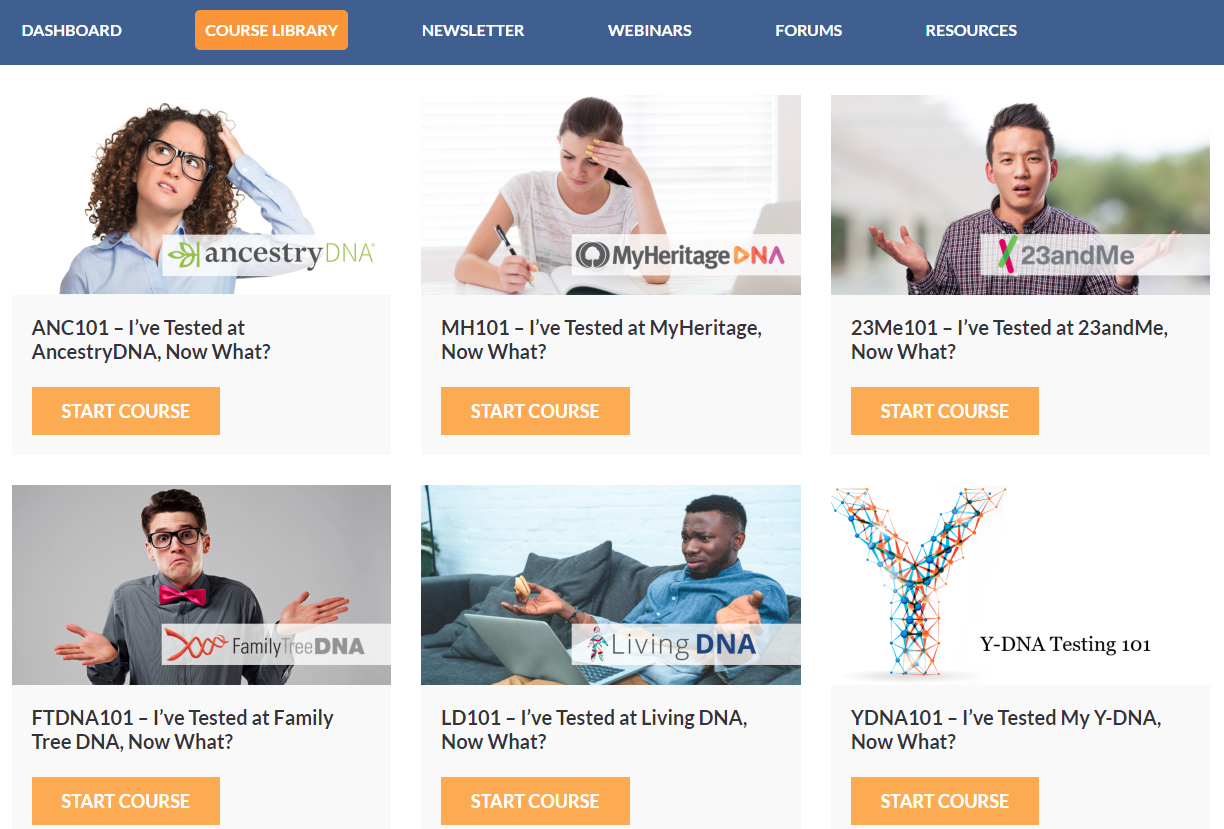 Some of the current DNA Central Courses available today include:
I've Tested at AncestryDNA, Now What?
I've Tested at MyHeritage Now What?
I've Tested at 23andMe, Now What?
I've Tested at Family Tree DNA, Now What?
I've Tested at Living DNA, Now What?
I've Tested my Y Chromosome, Now What?
I've Tested my Mitochondrial DNA, Now What?
Essential Third-Party Tools
Using the X Chromosome
Future DNA Central Courses coming soon include:
Introduction to Autosomal DNA
Introduction to DNA Painter
Introduction to GEDmatch
GEDmatch Advanced Tools
Introduction to Shared Matches and Genetic Networks
Welcome to Visual Phasing
And feel free to send ideas for additional courses!
When you click on a course, you're taken to the main course page with information about the course and links to the lessons in the course. For example, the AncestryDNA course includes six lessons, each with a different focus: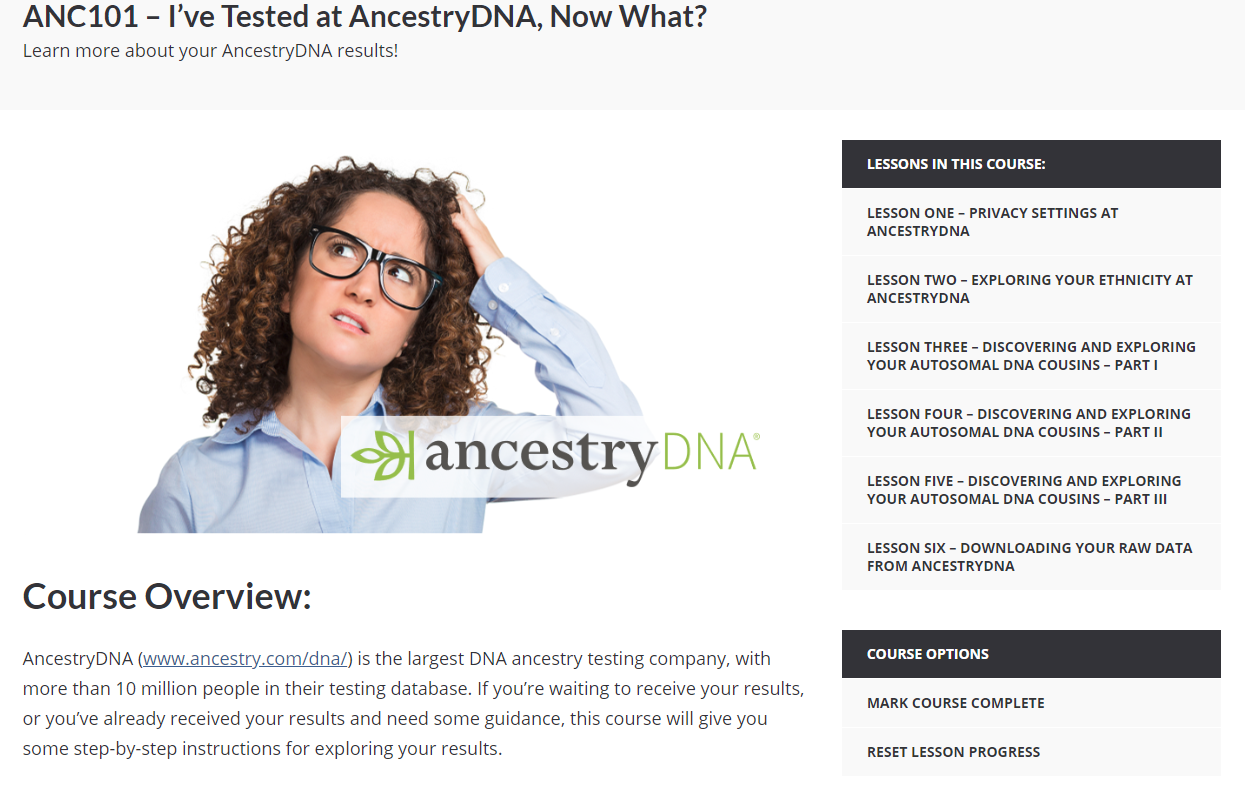 Each lesson in the AncestryDNA Course provides insight into a different aspect of the company or the test results you receive. For example, in Lesson Five we examine Shared Ancestor Hints and DNA Circles, learning what they are and how to use them while avoiding the common pitfalls.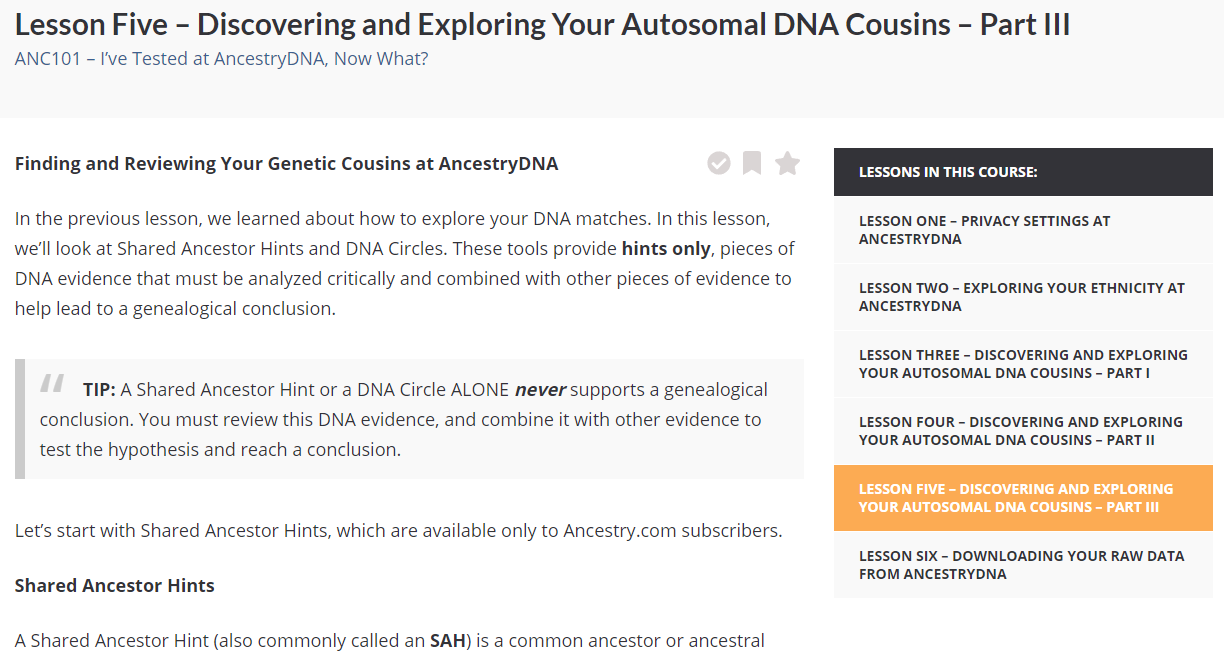 Hopefully you find these courses useful as you explore your test results!
The DNA Central Newsletter
The DNA Central Newsletter is a great way to stay on top of all the most recent developments in DNA. Being current in the field is a full-time job, so let me help you with it! What news articles have been published, what new tools are available, and what's happening at the testing companies? We'll cover all these issues in the DNA Central Newsletter!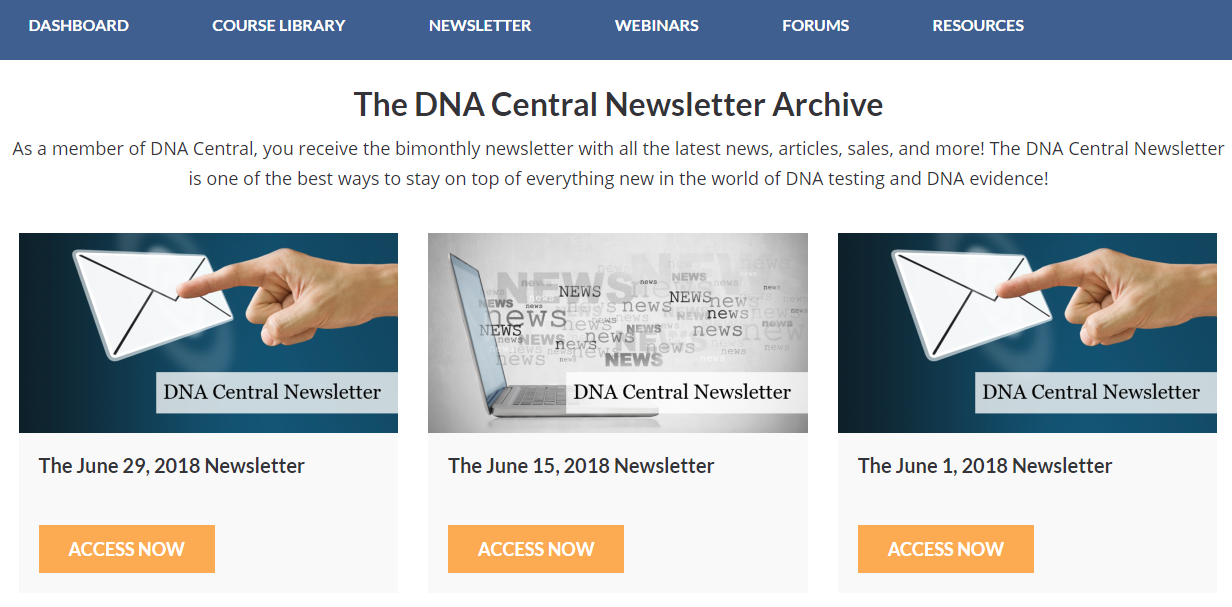 For a sample, see the June 15, 2018 Newsletter HERE!
Join DNA Central!
Since there is always something new happening in the world of DNA, content at DNA Central will continue to grow indefinitely. So join today to start your DNA education!
For a limited time (through July 15th, 2018), subscribers to The Genetic Genealogist can get a one-year membership to DNA Central for just $89. That's about $1.70/week to further your DNA education! Join HERE!
If you prefer a monthly subscription for $9.99/month, you can subscribe HERE!