Many DNA test takers have a wealth of genetic relatives! For example, I have more than 50,000 different genetic cousins across all the genealogy DNA testing companies. Although many regions of the world do not yet have 1,000's of genetic cousins in their match lists, they will in the future as DNA testing grows increasingly popular and the testing companies target other countries.
Unfortunately, the testing companies have not provided users with the tools necessary to organize these matches. Indeed, clustering and organization of genetic cousins is a huge component of the future of DNA evidence. Clustering of our matches allows us to identify information that is not visible or apparent when the matches are unorganized.
This is where the DNA Match Labeling extension for Chrome comes in! I worked with a programmer to build this extension.
A browser extension is a small piece of software that resides on your computer and adds functionality to YOUR browser. No one else will see the results of this browser. This software does not affect your information at Ancestry, as that information is stored on Ancestry's servers. What this tool does do is affect how you see your AncestryDNA data, by adding a small dot to every match that can be filled in with one of 8 different colors. Here's an example of three matches each labeled with one of the eight colors: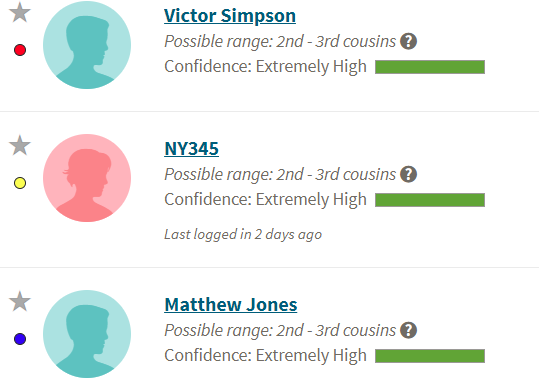 Installation of DNA Match Labeling
The extension can be found at the Chrome Web Store (click the link or search for "DNA Match Labeling" in the store). Click on "Add to Chrome," give it the necessary permissions, and it will be added to your Chrome browser.

Once installed, you'll see a new table at the top of each kit you admin at AncestryDNA. Each kit you admin in your Ancestry account will have its own unique table! Here's my table.
Each of your matches will have an empty white dot next to their name on both your list of matches and on each individual match page:

If the match is one that you haven't yet reviewed, you'll see the DNA Match Labeling empty dot below the usual blue "new match" dot as in this image:

You're now ready to fill in the dots with color!
Using DNA Match Labeling
The first step in using this extension is to decide what the colors will represent. In this particular application, I'm using only the first four colors and I'm assigning them to each of my four grandparents:

Now, when I assign a red dot to a match, I am indicating to myself that the match is related to me through my paternal grandfather Roy Bettinger. Similarly, if I assign a yellow dot to a match, I am indicating to myself that the match is related to me through my maternal grandmother Jane Garcia.
To assign a color, click the dot next to a match's name. The color dot selector will pop up:

Click one of the colors, and that color will permanently (but reversibly!) fill in the dot. In this example, I selected the green dot for this match:

This coloring will appear for this match both on my main match page and in the individual match page for J.R.:

I can also change the color, including back to empty white, on either the main match page or in the individual match.
One of the best benefits of the DNA Match Labeling tool is as a very clear visual indicator when using the AncestryDNA Shared Matches tool. In this example, I'm checking for matches with Haruto, and I see that all of the closest shared matches have been labeled with the green color! I can instantly formulate a hypothesis that this match is related through the ancestor I've assigned to the green color! I've proven nothing, but it is an excellent hypothesis that I can now test with additional evidence.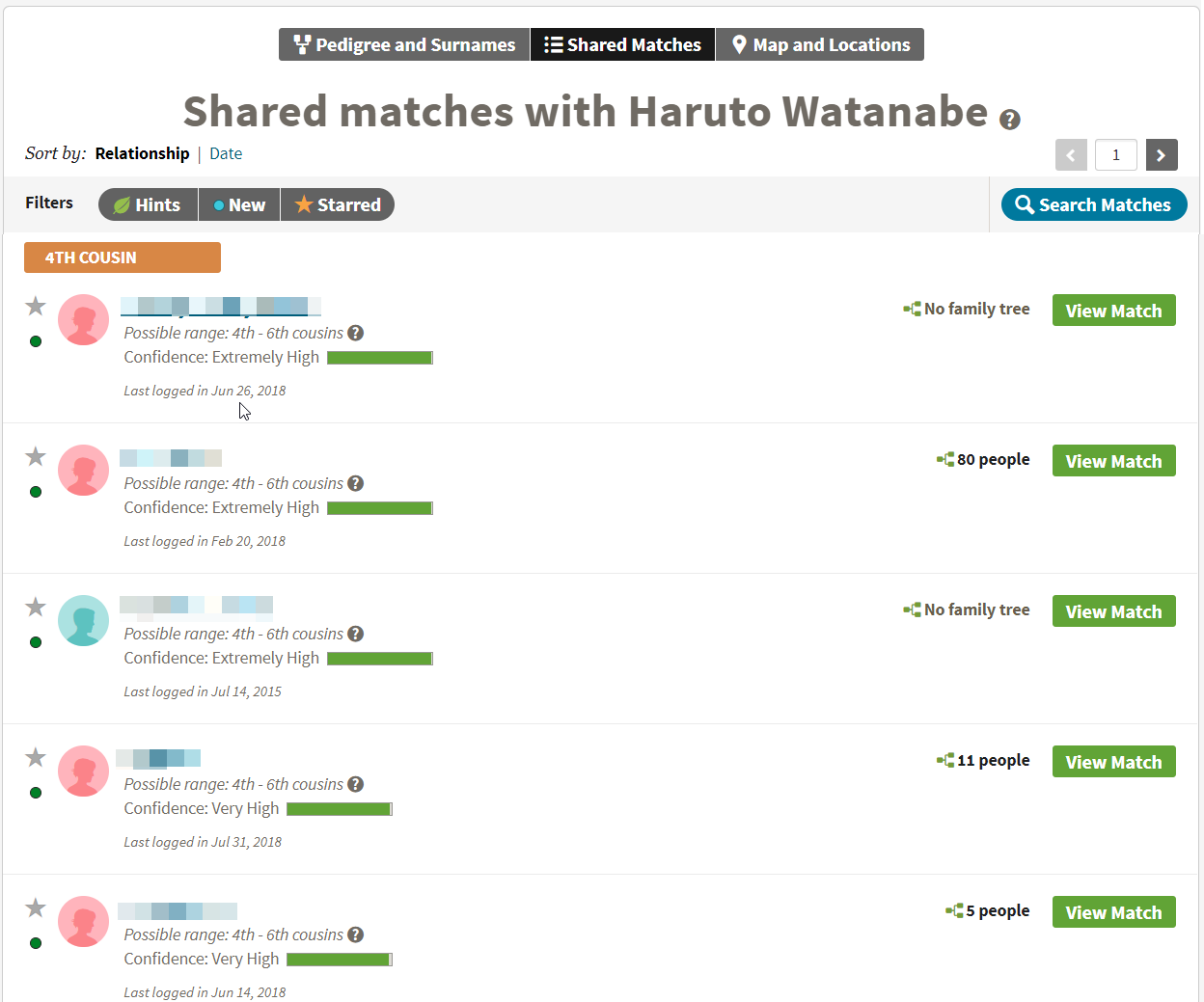 How are you using the tool? What discoveries have you made?
Limitations of DNA Match Labeling
The tool does NOT allow for sorting or searching using these colors. Additionally, if you label "John Doe 123" with a red dot in YOUR kit, that labeling will not carry over to the same "John Doe 123" in another kit.
You also cannot add more than one color dot to a match. Typically this is a close relative related on multiple lines, in which case you typically know who they are. For cases of more distant pedigree collapse or endogamy, there may be creative ways to address this, such as assigning a color to a certain cluster or group of ancestors. The use of the tool is limited only by your imagination!
Additionally, my apologies to those with color vision or small dot vision challenges. If I were redoing this from scratch I would use colored shapes with eight different shapes each being a different color. Unfortunately, the time & cost investment made so far has made that currently infeasible.
These all might be something for a future update (although no changes are planned currently).