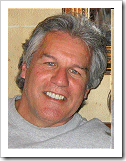 The eighth edition of the TGG Interview Series is with Max Blankfeld.  Max is Vice-President of Marketing and Operations at Family Tree DNA, one of the largest genetic genealogy companies in the world.  In addition, together with Bennett Greenspan, Max launched DNA Traits, a company that tests DNA for genetic diseases and inherited conditions.  Max is a frequent contributor to genetic genealogy mailing lists and has answered many people's questions about testing, results, an the field in general.
From the "About" page at Family Tree DNA:
"Originally from Brazil, received his BBA from Fundação Getulio Vargas, and MBA from Rice University. While his first college education was in the field of Aeronautical Engineering, he gave it up to become a foreign correspondent. After that, he started and managed several successful ventures in the area of public relations as well as consumer goods both in Brazil and the US." ... Click to read more!