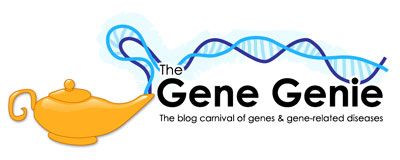 Welcome to edition #13 of the Gene Genie. There were many interesting and exciting submissions for this issue, so I hope you do a little exploring and learn something new about genes, personal genetics, and personalized medicine.
Splicing Genes.Let's start off with something fun.I don't know if we'll ever try to splice our genes with those from famous or successful people, but here's at least one conversation that might result!
With new genetic discoveries being announced every day, how does one keep up-to-date?Well, luckily we have a few helpful suggestions from our fellow bloggers.Scienceroll gives us 7 Tips: How to be up-to-date in genetics/genomics?And Clinical Cases and Images – Blog adds to the discussion with 6 Tips on Staying Up-to-Date in Genetics (and Any Specialty).