Today's issue of Science contains a new look into the world of genetic genealogy. "The Science and Business of Genetic Ancestry Testing", led by researchers at the University of Texas at Austin, examines the benefits and drawbacks of genetic genealogy. Here is a table summary of the researcher's conclusions: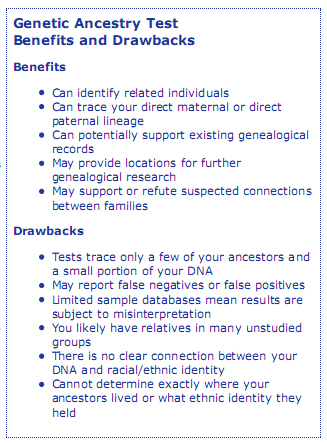 Table from: "Deep Roots"" at www.utexas.edu/features/2007/ancestry/.
One interesting fact from the article is that the number of people who have purchased genetic genealogy tests is estimated to be over 460,000! If you would like to read more about this study, there are a number of other sources of information, including a press release from The University of Texas at Austin, where the first author, Deborah A. Bolnick, is assistant professor of anthropology. There is also a feature story at The University of Texas' website. In this feature story, Dr. Bolnick states: ... Click to read more!