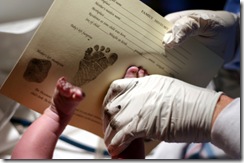 Last week, Randy Seaver of Genea-Musings posed a genetic genealogy question on his blog.  I posted a possible solution in the comments there, but I am asked this question regularly and thought I would discuss it here.
At a recent meeting that Randy attended, a woman in the audience asked the speaker:
"I don't know who my father is. He and my mother had relations in Naples, Italy back in the 1950's and I was born. I have no siblings. My mother did not tell me his name and there is no father's name on my birth certificate. Can DNA research help me?"
This particular situation is exceptionally challenging.  If the child had been a boy, he would have his father's Y-DNA and a decent chance at identifying his father's surname (and thus could perhaps further elucidate his actual identity with the combination of DNA research and traditional genealogical research).  If the unknown parent had been the mother, the daughter would possess the unknown parent's mtDNA and a remote but possible chance of finding an mtDNA match and using traditional genealogical techniques to identify the mother. ... Click to read more!