My great-grandmother, Helen Johnson, was adopted.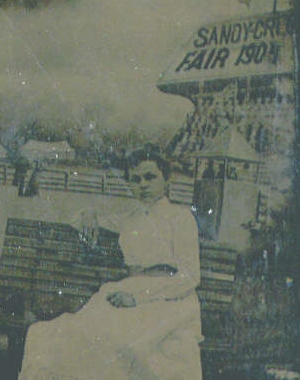 She was born on March 2, 1889 in Mexico, Oswego County, New York, the unnamed daughter of a "Minerva D. Johnson" (age 20 and born in nearby New Haven, Oswego County, NY) and an unknown father. (New York State Department of Health, birth certificate 8040 (1889), no name; Office of Vital Statistics, Albany).
She died at the age of 93 in 1983 in Watertown, New York. Visiting the elderly Helen (by then known as Marley) is one of my earliest childhood memories.
In an attempt to find Helen's ancestors, I'm using DNA that I graciously obtained from four of Helen's grandchildren (my father, two of his sisters, and their first cousin). Last week, I uncovered some possible clues that have raised more questions than I could have ever thought possible. And when DNA is involved, that's really saying something!
Discovering a Clue Using ICW
In late August 2015, AncestryDNA had just recently launched the new In Common With tool, and I decided to inspect my aunt and my father's matches. I selected my aunt's closest unknown match, a predicted 4th cousin that we'll call R.T., for review:

I quickly reviewed his tree and saw a few surnames that I recognized, although it's pretty rare to review a tree and not see surnames I recognize. I did notice the following in R.T.'s tree, however:

The "Snell" surname is connected to Helen in a way I'll talk about at the end of this post (and in later posts), but none of these names seemed familiar. So I decided to see where this Snell family might have been located by clicking on Edmond Cooley Snell: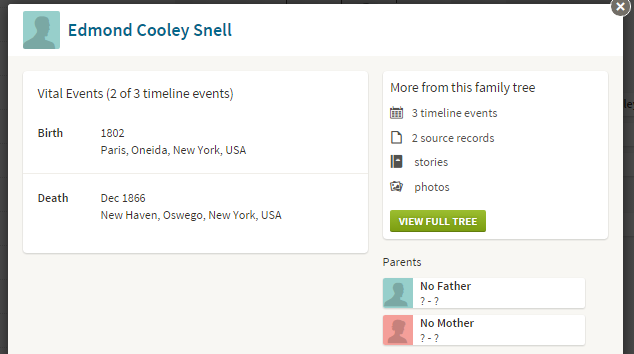 And then, instantly and without any such expectation, Edmond was an enormous person of interest! Edmond died in 1866 in New Haven, the very same small town where Helen's mother was reported to have been born in 1869. And just a few miles from where my great-grandmother was born in 1889.
Next I clicked on the SHARED MATCHES button to see all the predicted 4th cousins or closer that my aunt shares with R.T. (Note that AncestryDNA's In Common With Tool only shows 4th cousins or closer; you can share many more distant matches with someone , but they won't be identified by the tool).

The SHARED MATCHES showed the following list of individuals:
My father (my aunt's brother) – no big surprise there, my father and my aunt share R.T. in common. In fact, R.T. is a predicted 3rd cousin to my father;
Myself – again, no surprise;
One of my children – no surprise; and
Two predicted 4th cousins that we'll call Susanne and John.

1. Predicted 4th Cousin Susanne
I clicked on the first match, Susanne, hoping to see a connection to the SNELL surname in some way, but unfortunately I didn't see anything. I did, however, see this: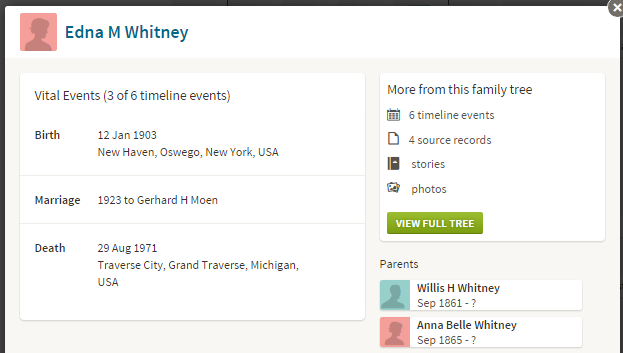 One of Susanne's ancestors, Edna M. Whitney, was born in 1903 in New Haven. Yet another connection to the small town of New Haven, Oswego County, New York!
I wanted to dig into this family quickly to see if I could tie it in any way to the Snell family. A quick internet search uncovered the wonderful Whitney Research Group, including a page describing the family of Burton C. Whitney of New Haven, who was the father of Willis Whitney (who married Anna Belle Daniels).
To my shock, the wife of Burton C. Whitney was reported to be none other than Julia SNELL, daughter of "Edmond Cooley and Cynthia (Parmele) Snell." Of course this would all have to be verified, but it was all quickly becoming a very tantalizing clue to my great-grandmother's biological ancestry.
Predicted 4th Cousin John
Returning to John, the other predicted 4th cousin that my aunt shared in common with R.T., I reviewed his family tree as well and found the following: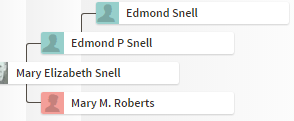 Once again, Edmond Snell was in the family tree of this cousin! (As you'll see, although this Mary Elizabeth Snell is the same Mary Elizabeth Snell found in R.T.'s tree, they're descended through different daughters of Mary Elizabeth Snell, and the accounts appear to be administered by different people).
Confirming my Father's Matches
I had been using my aunt's results, so I went to my father's account and checked to see if he had all the same results (and potentially some additional ones). He did indeed have the same results, the only difference being that he was actually a predicted 3rd cousin to R.T. where my aunt was a 4th cousin.
One More Clue…
Then I searched for SNELL in the match list of both my aunt and my father. Since AncestryDNA's In Common With only shows predicted 4th cousins or closer, it was possible that there were other SNELL relatives from the same close family that didn't share enough DNA to be 4th cousins or closer, but who still might be able to add to this research.
Perhaps not surprisingly, both my father and my aunt had matches with SNELL in their trees. One match, the very first "Distant Cousin" match in my aunt's list of matches containing SNELL in their trees, whom we'll call Jacob, was promising. Reviewing his tree, I saw the following: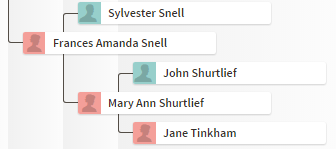 Again a little beginning research, and I discovered that Sylvester Snell (reported to be born in Paris, Oneida County, New York in 1805) was reported to be the brother of Edmond Snell (possibly born in Paris, Oneida County, New York in 1802).
Could Helen Johnson be a Descendant of Edmond Cooley SNELL?
So now I had four different SNELL cousins, all of whom appeared to be distinct (none of the kits were administered by any of the others). And at least R.T., Susanne, and John were in common with each other, my father, and my aunt:
R.T. – predicted 3rd cousin to Dad, 4th cousin to aunt
Susanne – predicted 4th cousin to Dad & aunt
John – predicted 4th cousin to Dad & aunt
Jacob – predicted distant cousin to aunt
Of these, the descendants of Edmond Cooley Snell (R.T., Susanne, and John) were shared by both my father and my aunt, and were 3rd to 4th cousins (we'll look at the amount of shared DNA in the next post). Meanwhile, the descendant of Sylvester Snell (Jacob) was only shared with my aunt and it was a much more distant relationship.
This pattern – together with the amounts of DNA shared by these relatives – make me think that it is very likely that my father and my aunt are descendants of Edmond Cooley Snell, and quite possibly through their grandmother Helen Johnson.
A Shocking Discovery
Unfortunately, concluding that Helen Johnson was a SNELL descendant would be an enormous leap here, for several reasons.
First, it is still possible that R.T., Susanne, John, and Jacob are related to my father and his sister via an entirely different family and surname that the paper trail hasn't yet uncovered.
Second, there isn't any real evidence that these individuals are related to my father and his sister via their paternal grandmother. There are 3 other grandparents through whom they could share this relationship.
But.
There is something, an undeniable fact that I haven't yet revealed.
This undeniable fact makes the SNELL family extremely tempting as Helen's biological family, yet at the same time calls the entire delicate hypothesis into question.
On April 9, 1932, Helen – a very recent widow at the age of 43 – married Walter A. Snell, grandson of Edmond Cooley Snell.
To be continued…
.