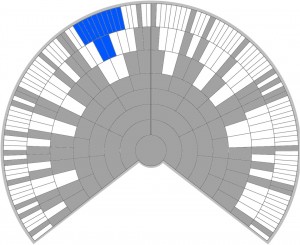 Understanding the complexities of autosomal DNA can be very challenging for newbies.
However, there are a few basic tenets that I believe can help these newbies.  These tenets are essentially tools that newbies can use to analyze an autosomal DNA problem for themselves.
For example, here are the two very basic tenets that I typically introduce in my autosomal DNA lectures especially for the newbies:
You only have to go  back about 5 generations to start losing ancestors from your Genetic Family Tree.
So many of the issues that newbies run into can be resolved or prevented through understanding of these concepts.
The Coop Lab
The lab of Graham Coop, an associate professor in the Department of Evolution and Ecology at UC Davis, maintains a blog where they often discuss genetics.  Today they published an interesting blog post entitled "How much of your genome do you inherit from a particular ancestor?  In the post, they perform a handful of different analyses using data they had for one generation of transmissions which was compounded over multiple generations.