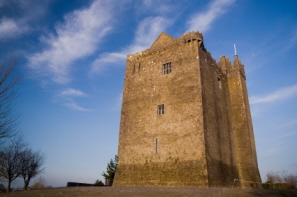 As many as 3 million men worldwide might be directly descended from a single Irish warlord named Niall of the Nine Hostages who was the High King at Tara from 379 to 405.
In February 2006, researchers at Trinity College in Dublin released a paper that studied that Y chromosome signature of men throughout Ireland. They found that 8% of men sampled had the same Y chromosome, with a cluster in the northwest where fully 21% of men carried the signature chromosome (which fell into Haplogroup R1b1c7). The article appeared in The American Journal of Human Genetics and was titled "A Y-Chromosome Signature of Hegemony in Gaelic Ireland."
The researchers looked at 17 STR markers on Irish Y chromosomes to determine the relatedness of samples they had obtained. They found that there was a strong association between the most common signature and surnames that were related to the most significant dynasty of early medieval Ireland – the Uí Néill. Some of the surnames included (O')Gallacher, Boyle, O Doherty, O'Connor, Cannon, Bradley, O'Reilly, Flynn, (Mc)Kee, Devlin, Donnelly, Egan, Gormley, Hynes, McCaul, McGovern, McLoughlin, McManus, McMenamin, Molloy, O'Kane, O'Rourke and Quinn (list from Oxford Ancestors). Of course there were no surnames at the time of the earliest Uí Néill dynasty, but when the Irish took surnames around 1,000 A.D., many chose names that were associated with Uí Néill dynasties.