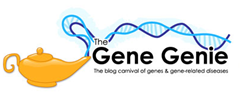 Welcome to the September 14, 2008 edition of Gene Genie!  Bloggers have begun to pick up posting with the end of summer, and it seems like everyday there's a bunch of new interesting posts about the human genome.
96well at Reportergene presents "Trends in development of reporter genes."  Reportergene is also looking for bloggers/reporters to join the blog's community and help create the "main repository of news and tools for reportergenomists."  See here for more information.
fightingfatigue presents » Have Japanese Researchers Found Diagnostic Tool for ME/CFS? posted at Fighting Fatigue.  According to a study discussed in the article, there might now be a test able to diagnose Chronic Fatigue Syndrome.