Today (March 28, 2017), AncestryDNA launches a new tool called "Genetic Communities." Genetic Communities (GCs) are groups of test-takers who are connected through their DNA because they descend from an identified recent and distinct population of ancestors (somewhere around 1750 to 1850, in my experience).
There is a lot to explore with these GCs, so this will be just an introduction rather than a complete guide.
At 2 PM EST this Thursday I'm doing a webinar for Legacy Family Tree Webinars called "Exploring AncestryDNA's New Genetic Communities." You can register at any time. If you're reading this after March 30, 2017 and you missed the free webinar, you'll be able to watch the webinar if you are a Legacy Family Tree member (and you should be!).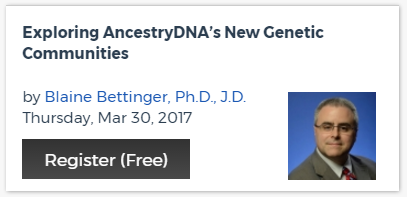 ... Click to read more!